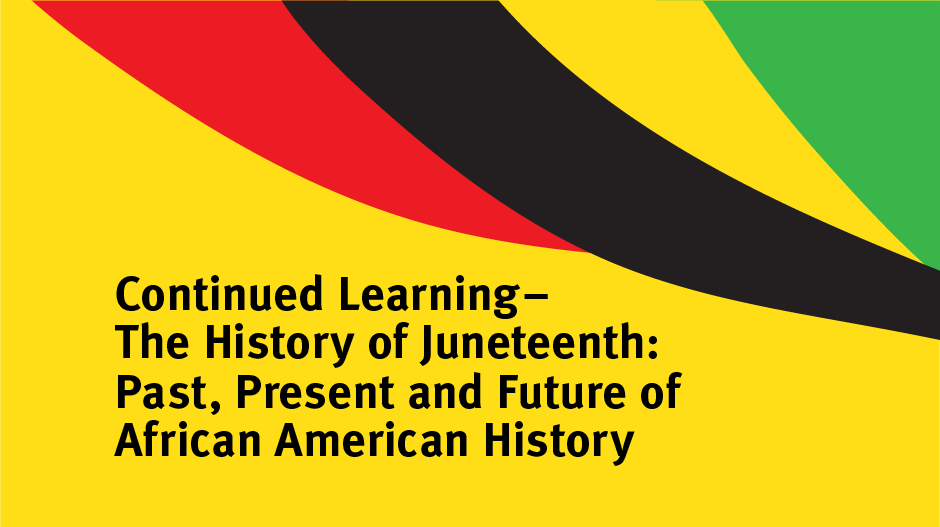 In 2020 the Council adopted Resolution 1992, declaring that Juneteenth will be recognized every year in Tukwila.  It's a celebration of emancipation and an opportunity to honor African Americans in our community through continued learning and understanding of the impacts of slavery.
This year the City of Tukwila hosted their first Juneteenth Commemoration, "Continued Learning – The History of Juneteenth: Past, Present and Future of African American history." Scroll down to view video highlights from this year's commemoration, or watch the full length event video at the bottom of the page. While this inaugural commemoration was virtual due to the pandemic, the City's goal is to grow the Juneteenth Commemoration over time into an annual Tukwila community-wide event.

A History of Juneteenth
The Commemoration of Juneteenth is a nationally-celebrated event that takes place every year on June 19, known as "Juneteenth."  Learning its history provides understanding of how this day came to be. Juan Padilla, City of Tukwila Human Resources Director, presents an overview of the history of Juneteenth that includes a special performance of "Lift Every Voice and Sing" from the Church by the Side of the Road Choir.

Growing and Farming in Tukwila: History Before Southcenter Mall
Before Southcenter Mall was developed, Tukwila was a farming community and many African American families were bused in from Seattle Central District to work on these farms. Wayne Perryman discusses the history of African Americans in Tukwila and describes what it was like working on the farms before Southcenter Mall.

Honoring Joe Duffie
Tukwila Councilmember De'Sean Quinn honors former Councilmember Joe Duffie, the first African American elected to office in Tukwila and one of the city's greatest civic leaders.

Soul Food – A History of African American Cuisine
Trish Kinlow, City of Tukwila Court Administrator, discusses the history and cultural importance of African American cuisine and shows us how to cook two soul food classics – Smothered Cabbage and Succotash.

Honoring Tukwila Community Members
Nichelle Page presents the City of Tukwila's Community Leadership Awards to Tukwila School District's Marva Harris and Foster High School students Alexis Mburu and Jadon Crawford.

Sankofa: Looking Back to Move Forward
Praxis Essentials gives us an original spoken word and movement performance.

Watch the Full Length Juneteenth Event

Continued Learning – The History of Juneteenth Resources
National Resources
Washington State Resources
King County Resources
Stream These Documentaries
African American: Many Rivers to Cross
Forgotten Four: The Integration of Pro Football 
High on the Hog: How African American Cuisine Transformed America
Jimi Hendrix: Hear My Train Comin'
13th  
Venus and Serena  
The Loving Story