On a warm Wednesday afternoon, I made my way down to the Tukwila Village Farmers Market with tote in hand and grand expectations of a bustling, crowded event. As I walked around the north side of the Tukwila Library toward the Sullivan Center, I was greeted with a much simpler scene that challenged my preconceptions of what makes a market.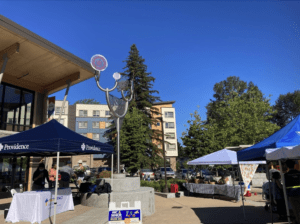 Most markets I visit tend to be a zoo of people and booths; Often I find myself sucked into a maze of stalls and people with very little freedom to decide my own course. It's harder to learn more about the vendors themselves, and dive deeper into what makes the market unique. In Tukwila, the flow is noticeably different; excess and abundance are traded for space—the defining characteristic of this beautifully simple market that asks you to slow down and spend a little time, not just a little money. 
Out on the concrete plaza nestled between 144th and 41st were 6-8 stalls curving around the steps of the Sullivan Center. I was a little taken aback at first by how sparse the space was, but as I made my way down the steps and into the heart of the market, I felt at ease with its openness; it was simple and welcoming; the distinctions between vendor and visitor appeared blurred, resulting in a setting that felt more social than transactional. Flashy logos and branding were uncommon, replaced almost entirely by the personalities of the vendors themselves to do the selling.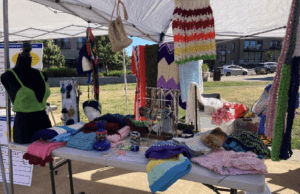 Without much of a plan, I began my stroll on the opposite end of the market. The first stall I visited was a vegetable stand hosted by farmers who had just finished lining their table with the latest harvest. I picked out a fresh bushel of kale and used the moment of my transaction to strike up a conversation with one of the vendors, simply asking what they thought of the market and what makes it unique. They were quick to comment on the accessibility and cooperation between businesses, mentioning that they work in tandem with the Food Innovation Network and IRC to help local farmers—many of whom are immigrants or refugees—get up to speed with supplying and manning their own stalls in the market. Apparently, reserving a space is completely free, requiring only proof of a retail license. Most farmers markets demand steep rental fees, leaving little space for low income candidates to get their businesses started. In Tukwila, however, it seemed that competition took a back seat to cooperation.
I continued down the row of stalls with ease, admiring the lack of pressure I felt to make my time quick at each stop. Friendly faces welcomed me at every table, eager to have me come in and see what they were up to. Along the way I was asked for my opinion on budget allocation ideas for the city of Tukwila, introduced to a new rideshare system that shuttles people across town for free, and even invited to Tukwila's next See You in the Park event—reminded multiple times that there would be fresh donuts. 
After chatting about donuts, I made my way down the line to the next stall, attracted by a beautiful display of colorful garments spilling over the vendor's table and hanging from the roof of the tent. A woman dressed in an equally-stunning combination of designs made her way over and welcomed me to her stand. Her name was Helen and all of the colorful pieces on display were her creations—the results of years of dedicated crocheting, a passion which she discovered at just six years old. "I started and never stopped," she remarked proudly while showing me around her shop. 
Scarves, pillows, blankets, hats, tops and more filled the stand, all brought into being by her talented hand. I admired the delicate intricacy of a pair of earrings on display in the corner; colorful woven crescents curving around an open circular space, reminding me much of the simple layout of the market in which I stood. "Imagine wrapping yourself up on the beach in one of these!" Helen broke in. I looked up to see her smiling from within the warm embrace of a crochet throw blanket, modeling how to best wear the colorful cozy web of fabric. Her enthusiasm for each piece was incredibly charming and indicative of the love and care she put into her work, which was made even more impressive once I discovered that crocheting wasn't her only talent.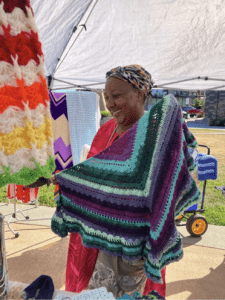 In addition to creating and selling garments and accessories in the market and online, Helen is also a dedicated farmer. "The market helped open up new avenues of business for me," she explained. "I actually started with a produce stand here, and doing that showed me that I could also open a stand for my crafts business." The low barrier to entry was key to getting her start at the farmers market. Arriving in Washington from Kenya just a few years ago, Helen was pleased to quickly find an opportunity to display her talents and get her products on the market. She puts much of the money she earns at the Tukwila market towards eventually bringing the rest of her family over to the states. In the meantime, she has been hard at work perfecting her many talents and even setting her sights on opening up a dedicated storefront somewhere in the city. While talking about her success at the market she couldn't help but laugh when remembering just how hesitant she initially was to get started. "I want to encourage other farmers to take on the challenge of opening their stalls here, it's so much easier than you think!" 
I left Helen's stall and headed back to my car with a beautiful crochet scarf and a better understanding of what makes the Tukwila market such a special place. In addition to the lovely variety of local vendors providing fresh produce, crafts, and civic engagement opportunities, I was also acutely reminded of the importance of making space—not just for ourselves, but also for others, especially those who have the cards stacked against them. It's far more rewarding to make some room than to endlessly search for it. I had visited the Tukwila Village Farmers Market and discovered a micro community that felt very much reflective of the city as a whole—a diverse collection of people and talents that only grows stronger as more space is shared.