Since 2017, Oppegaard Meadery has been producing some of the most celebrated mead in the region, and even the world. People come from all over to visit this meadery nestled in a little corner of Tukwila. Experiencing somewhat of a renaissance, mead is an alcoholic beverage made by fermenting a simple mixture of honey and water; its origins stretch far back through human history. Mead has been celebrated for tens of thousands of years, making countless appearances in stories and poetry from cultures all across the world. Today, Tukwila is quickly becoming one of the focal points of the great mead revival. 
We sat down with owner and founder Jon Oppegaard to learn more about mead and what makes Oppegaard Meadery such a special place for passionate connoisseurs and newcomers alike.
How do you describe mead to someone?
The variety that's possible is so huge, but trying to explain that to people is the hardest thing. When someone comes in and asks what mead tastes like I'm like, "Uh, anything?"
How much mead have you made?
We've done like a hundred-something varieties at this point. The variety is endless. 
What inspired you to make mead?
So, I'm a nerd. I grew up reading fantasy books like The Lord of the Rings. My ancestors came from pretty much all over Europe. But my name comes from Norway, specifically. My great-great-grandfather came here from Oppegaard, Norway. As a kid, I was obsessed with Vikings and anything Norwegian, and if you read enough about that stuff, you'll come across mead. It didn't really click [for me] that it was an actual drink you could get in the modern era. It wasn't until eventually somebody that I worked with was like, "Hey, you know you can buy mead at the grocery store, right?" That blew my mind. I immediately bought a bottle after work and fell in love with it. So, I learned how to make it as a way to save money. It started out terrible. But I'm pretty persistent. I started getting the hang of it. Got involved with a lot of mead forums online. Eventually starting a meadery was the natural progression of things; it kind of outgrew my house. I never planned on quitting my real job as a mechanic. It kind of just grew, and one day I walked out on my job. My plan was to see how long I could go without a job. That was 7 years ago. 2016 is officially when we opened.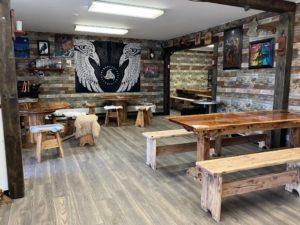 Is mead becoming more popular in Tukwila?
Did you know there's another meadery right across the street from here? That one opened a little over a year ago. Yeah, we're the only place in the entire world that has two meaderies across the street from each other. We joke that we're going to become the Woodinville of mead.
Do you host or sponsor events?
We get food trucks here a couple of times a month. We do a lot of tasting events. We do mead-making classes here. We've had tattoo artists giving Viking-themed flash tattoos here. We've hosted a band and even had a person playing a hurdy-gurdy here in the corner. The plan is to do more. I also supply all the mead for the Renaissance Faire in Monroe. We've talked about more local events, but since Covid just ended, everyone in the mead world is still struggling. We were probably one of the slowest alcohol sectors to recover. It was tough. I became a full-time delivery driver for a moment. 
What is the production process like?
Honey and water and yeast and then … wait. That's it! Usually six to eight weeks. There's a lot of unique ways to approach the same simple process. And you know, there are a lot of misconceptions about how to make mead online. I just trial-and-errored my way through it when I first started out. Eventually, I figured out the many tips and techniques that are commonplace among professionals. I did eventually make connections and now have a group chat with friends in the mead world, and we're constantly talking back and forth about our process and new ideas. The other day, someone even called me an OG of the mead industry!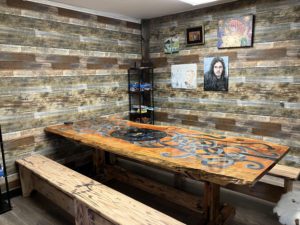 How important is mead to Washington?
Washington is one of the hubs for mead. We are one of the only states in the country that recognizes mead as separate from wine. Everyone else lumps it in with wine. There are a lot of state rules that just don't make sense for mead. 
Are there a lot of regulars that visit Oppegaard?
You know, we have the Viking Mead Club. There are 300 people in it. It's capped at 300. It's pretty much always full. But we get all kinds of people coming in here. It's pretty wild and really flattering how many people come through here, this random mead house in Tukwila. 
Where does all the art inside the tasting room come from?
Pretty much everything on the wall and the tables themselves has a story. A lot of people who are into mead are really artistic people. So, most of the art on the wall are from people who have a connection to the meadery. And I try to travel around as much as my bank account will let me. So, some of this stuff is from my travels also. I like to joke that the meadery is just an excuse to display all my stuff. Like one of these axes on the wall, the blade is between 1,700 and 2,200 years old. It's basically like a horse axe.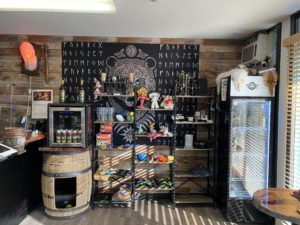 What makes you proud? 
I quit my job knowing full well that I only had enough money for 3 months, expecting that I would go get a real job again, and then I just didn't. And it's been 7 years with no signs of slowing down. That was never something I really expected. It was my wildest dream. I never have a bad day. 
What makes mead so special?
People have been drinking mead for probably tens of thousands of years more than we know about. So, it's like embedded in your DNA. Everyone back in the day drank mead; it didn't matter where they were in the world. If there were bees nearby, there was mead. 
Oppegaard Meadery is located at 600 Industry Drive in Tukwila, WA, and is open Tuesday through Thursday, 12 PM to 6 PM, and Friday through Saturday, 12 PM to 8 PM. Stop in for a tasting and say hello to Jon!