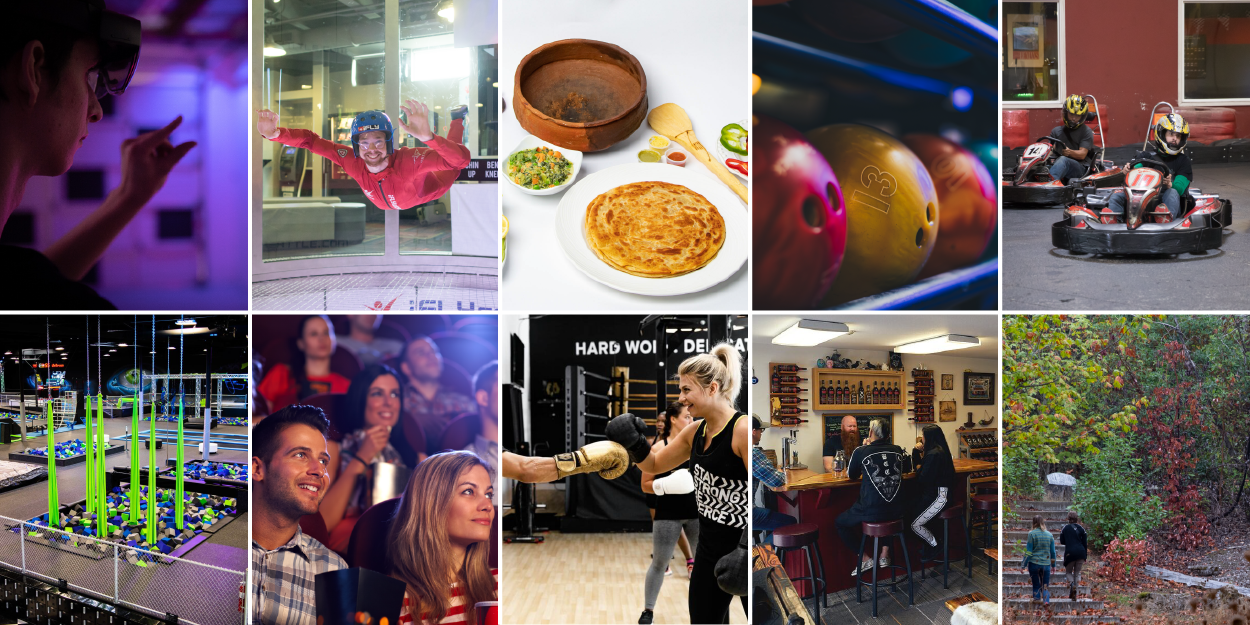 AHHHH! WHAT IS THAT?! 
Oh right, rain. 
After what felt like an eternity with that giant mass of fire in the sky, the rain has once again returned to its rightful realm: the Pacific Northwest. And what makes this place so special is how unbothered everyone is by a little water. Simply put, it's all a matter of perspective. If you fight the rain, you only fight yourself. Accept the rain and you free yourself to enjoy all the amazing things this region has to offer. 
Buuuuuuut, if you really just don't want to deal with it all, then we have a few recommendations on where to spend a nice rainy PNW day right here in Tukwila. So go ahead, check out our Top 10 Rainy Day Activities in Tukwila!
Escape in a Game Room
Does the rain have you wanting to escape to a new reality? Maybe one where you're not stuck inside seeing daylight rainy skies move into dark rainy skies at 4pm? Then stop by Tukwila's premier gaming destinations—Dimension XR and Legacy Gaming—and get transported to a new dimension filled with adventure where anything and everything is possible.

Get a Thrill at iFly
Feeling couped up inside? We have the perfect place for you: iFly.
The indoor skydiving craze has taken over the country, and now you can try it for yourself. Like Superman in training, don the fancy jumpsuit and helmet and then shoot off into the stratosphere* with guidance from one of the skydiving professionals. 
*more like 20 feet, but you can use your imagination.
Fill Your Belly at Spice Bridge
Rain + gray = give me cozy comfort food right now. Duck on into one of Tukwila's most vibrant displays of world cuisines: Spice Bridge. This global food hall is home to immigrants and refugees who bring with them insane culinary talents. With a rotating selection of food businesses, there's always a new exciting dish to try. It's the perfect place to cozy up with a hot meal.

Hit the Lanes at Bowlero
Bowling is an absolute classic rainy-day activity. So, it should come as no surprise that Tukwila has one of the best bowling spots around, Bowlero. What more do you need to know? It's bowling. You get it. Ball, lane, pins. Done. Now go do it and have a killer time inside not getting wet.

Race at SyKart
There's a common joke in this area that people don't know how to drive in the rain even though it's raining all the time. What that says to me is that more people need to hit the go-kart track for some high-intensity practice. Sykart is the place for all your go-kart needs. Situated right here in Tukwila, it'll provide the much-needed boost on a gloomy rainy day.

Jump Around at Defy
If you hate jumping in puddles, might we recommend jumping into giant pits filled with foam instead. That's just the start of the fun at Defy, a trampoline park in Tukwila. Foam pits, trampolines, rock walls, basketball, this list goes on. This one-of-a-kind action park is filled with challenges that are fun for the whole family. So, what are you waiting for? Don't feel the FOAMO. Visit Defy today!

Watch a Movie at AMC Southcenter
When it looks like Waterworld outside, it's best to stay inside and watch a movie… like Waterworld. Research studies show that the best place to watch new movies is in a movie theater, and I definitely didn't just make that up. Regardless, Tukwila is home to AMC Southcenter, featuring Dolby Cinema and IMAX theaters. Escape the rain and immerse yourself in a story far far away.

Stay Active at Mayweather Boxing
Just because it's raining doesn't mean you can't still stay active. Train like the champion you are at Mayweather Boxing and Fitness. The studio offers four different styles of classes throughout the week formulated with the perfect combination of boxing, strength, and cardo conditioning. Get drenched in sweat, not rain.

Visit a Meadery
Breweries are everywhere in the Seattle area. But only a few special places have meaderies. And situated right here in Tukwila is one of the best around, Oppegaard Meadery. Warm your belly and your spirits in this Viking-clad tasting room.

Go on a Hike
Okay, you got us. This activity won't protect you from the rain. In fact, it puts you directly in its path. BUT, hear us out. Taking a walk or run along the Green River Trail or at the Duwamish Hill Preserve in the rain is a really unique activity that many won't experience. So, if you work up the courage, grab that rain jacket, lace up those boots, and just lean into it.
As you can see, Tukwila is filled with all kinds of activities that make a rainy day actually something you will look forward to. So next time the clouds roll in and the rain starts falling, just make your way over to Tukwila to help brighten up your day.
Until then, head on over to our Activities and Events pages to stay up to date on all the exciting things going on in our city.